Choose a shuttle at more than 400 airports, harbors, and train stations – in 100+ countries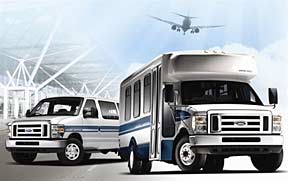 Reserving an air-conditioned shared minivan
costs little more than riding a crowded bus,
and offers friendly door-to-door service!
If you are looking for an alternative to expensive taxis or the hassle of public transport with heavy bags in tow, you are at the right place! Save gas, the stress of commuting from home, and the high cost of airport parking. Relax in comfort, read the paper, or get some work done on the way to the airport – by letting our reliable service providers do the driving!
Choose the easiest and most economical way of getting to and from the airport at both ends of your flight. We select only market leaders who provide safe, dependable, and friendly service – to guarantee your satisfaction.
At the destination airport, English-speaking drivers will take you directly to your hotel, business or residential address! No need to queue for taxis with their uncertain rates, or drag your bags up and down stairs and through long corridors searching for public transport.
Our Fleet of Vehicles
Our carefully-selected, fully licensed and insured operators provide clean, recent-model and well-maintained vehicles equipped with GPS units and with GSM mobile phones, permitting continual contact between their drivers and dispatchers.
Ideally suited for the individual traveler, family, or large group, they offer you a choice of eco-friendly shared or private 7- and 8-seater minivans, as well as private sedans.
Door-to-Door Service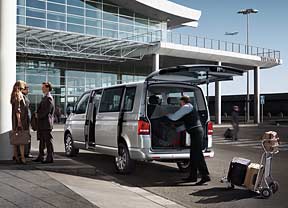 Shuttle driver loading luggage at the airport.
All our shuttle operators provide door-to-door service between your arrival/departure terminal at the airport and hotels, convention centers, train stations, or private addresses in the city. In Paris, the shuttles also serve hotels in the Disneyland area (Marne-la-Vallée and surrounding towns).
Your pick-up will be scheduled according to your flight's actual arrival, allowing for time to pass through baggage claim. Flight delayed? No problem! Operators monitor your flight on the Internet, and a driver will be waiting for you when you arrive.
Pick-up hours are generally from 4:00 a.m. to 12:00 a.m. (midnight). If you need to make a reservation outside of these hours, please contact us, and we will do our best to arrange your pick-up.
The driver will assist you with your luggage and drive you safely to your destination. For maximum convenience and time savings, the capacity of shared vans is planned so that no more than 3 stops are made going into the city, or 4 stops heading to the airport.
A fixed price means that there are no hidden surprises. Our posted rates includes the normal airline allowance of luggage. For extra bags or unusual luggage (pet cages, skis, bicycles), there may be an additional charge; check with the operator, whose contact info will be listed in your booking confirmation.
Booking Process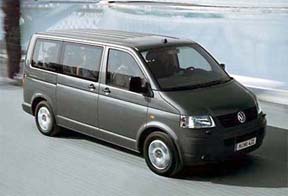 The 8-seater Volkswagen Transporter offers
a safe, spacious and comfortable ride.
©2010 – All Rights Reserved
Reservations must be made at least 48 hours in advance for all (shared or private) 8-seater minivans and private sedans. Please keep in mind that if you are crossing the Atlantic from America, you will be arriving on the day after your departure!
For all bookings (arrivals or departures), we will need your airline carrier, flight number, and scheduled arrival or departure time. Your credit card number (Visa or MasterCard) will also be needed to secure your reservation. We will automatically charge your card between 2 to 7 days after the reservation is made.
Upon completing the reservations process, you will receive an immediate screen confirmation with your unique booking number – plus an e-mail confirmation for your records. Therefore, it is important that you enter your e-mail address carefully!
We ask that you print the screen and/or e-mail confirmation to present to your driver when you board the vehicle. If you have booked a round-trip transfer, then print two copies and carry them with your other travel documents.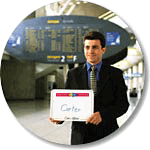 Private Minivan Service
If you prefer to enjoy a bit of privacy after your flight, or if you are in a hurry to get to your destination, consider our Private Minivan Service! It's a convenient, reliable, and affordable alternative to taxis – perfectly suited for the busy executive, family, or small group.
When you book a private transfer, the driver will greet you as you pass through customs, holding a sign with your name on it. S/he will then escort you to your vehicle.
Cancellations or No-Shows
Cancellations of any booked transfer must be made at least 24 hours prior to your scheduled pick-up time, or your credit card will be charged the full fare. Please refer to your confirmation e-mail for specific terms and instructions on how to cancel a shuttle reservation.